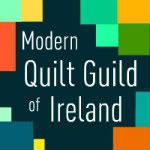 It is with ridiculous excitement that I announce the launch of the Modern Quilt Guild of Ireland.
Sarah
and I have been chattering on about this for several months now, but finally FINALLY we have ourselves organized.
We have two organizations in Ireland that support quilters, the Irish Patchwork Society and the Quilter's Guild of Ireland. They are both very active and a great way to meet other quilters, take classes, get involved in the community. Sarah and I are both members of these organizations. However, we wanted to create something specifically for modern quilters.
What are my hopes for this guild? Well, I love the idea of a group of people with a similar passion getting together and sharing ideas, enthusiasm, support and knowledge. I want for us to have regular gatherings that are filled with giggles and fluttering over each other's projects. I want to host workshops to share ideas and techniques. I would love to have a bee or block swap to have a little bit of each other's craftiness in each of our homes. In the end, I want a modern quilting community where we are all welcome, supported and thriving.
So, will you join us?
To read about our hopes for the guild, you can go to the
blog
or the
facebook
page. Please become followers of one/both to be sure you get regular updates of our activities. To join the guild and/or the email list, please complete the registration form
here
.
If you would like to learn more about modern quilting, please head over
here
to see our interpretation.
Sarah and I are completely thrilled with the opportunity to foster the modern quilting community in Ireland. We hope you join in and become a part of it too!