The world famous
Fugly Fabric party
has perfect timing for me this year, so I am delighted to join in. I have just been messing around re-organizing my personal stash of FQs and precuts lately. I pulled out a few that were right for me at one time, but I need to move on. Would you maybe like them in your stash? If so, just leave a comment below. Tell me if you would like giveaway 1, 2, 3 or 4...or any combination of them. For a second entry, follow me via any one of my social media outlets (listed below) and leave a comment telling me all about it. Let's get on with the goodness, shall we?
Giveaway 1
A pile of three green FQs or rather larger scraps. They are from the Stitched in Color line by Malka Dubrawsky for Moda. I
loved this line
, but the greens just are not doing it for me any longer. Might they float your boat?
Giveaway 2
What's left of a jelly roll of batiks. I still love the colors in this jelly roll, but I never used them in one massive project together. I have been snipping bits and ends off of strips that I dig for special projects. Anyway, what I have to offer is about 1/2 a jelly roll of these fabrics:
I will warn you, though. They've been
washed once
and they do bleed a bit and their edges are a bit stringy. Just so you know.
Giveaway 3
Fabrics that never really did it for me. These FQs were found in bundles, were given as gifts or appeared in the bottom of goodie bags. I would just love it if anyone wanted to give them a good home. (Edited to add all 3 of these FQs come as one package and will be sent to the Giveaway 3 winner).
Giveaway 4
The "low volume" bundle. These came to me as part of several larger low volume bundles, but they are either not low volume enough for me or I just do not dig the prints. Either way, maybe they will find a happy home in your quilts. They are each untouched (not even unfolded!!!) FQs. (Edited to add that the 4 FQs come together in one giveaway prize.)
If we're not already social media buddies (for your second chance at a giveaway win), you can find me here:
Thank you,
Lucy
, for organizing! You're the best!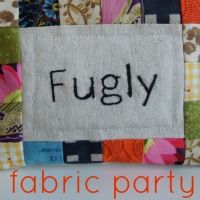 Small print: if you do not respond to my email informing you as a winner in 3 days, I will pull another winner and they'll take home the goodies. International entries welcome - why would you ever restrict fabric happiness? If you are a no-reply commenter, leave your email address in your comment or I will delete your entry.