I have joined a virtual quilting bee hosted by Judith of
Rags to Bags
called
Bee Blessed
. Together, these ladies are creating quilts for families in Belfast, one of my favorite cities in this part of the world. I really like the idea of this bee and am so very happy that I can contribute. Judith both hosts this sewing bee in person at a home as well as accepts blocks from those a bit further away....from folks like me!
This month they are making wonky star cot (crib) quilts from a tutorial posted at
Silly BooDilly
. It's a good excuse to try my first wonky star, so I gave it a go! I made 3 stars, but only had 2 ready for photos before the sun went down. So it goes. Looking in the
flickr group
, it seemed that most folks were using muted colors, so I tried to match them.
They are also looking for fabric donations, so I tossed in two "girly" fat quarters and a cat print that would be great for a kid's quilt. Hope she likes them :)
Thanks for letting me play along, Judith!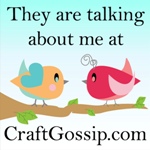 In other fun news....my little
basket
from the weekend is featured on Craft Gossip. You can see the post
here
. Lucky you, Partner 1! Your basket is getting a little bit of attention :) The article made me smile. They are totally right in saying I joined in this swap to force myself to do new things. Little do they know I have one foot further in the deep end than that.